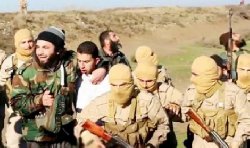 Updated at 2:18 pm (GMT +2): The Islamic State of Iraq and Syria (ISIS) extremist group on Wednesday shot down a warplane from the US-led coalition over northern Syria and captured its Jordanian pilot.
Jordan's military on Wednesday confirmed that one of its pilots was captured by ISIS after his plane went down in Syria, official news agency Petra said.
"During a mission Wednesday morning conducted by several Jordanian Air Force planes against hideouts of the IS [ISIS] terrorist organization in the Raqqa region, one of the planes went down and the pilot was taken hostage" by ISIS, Petra quoted a source from the military's general staff as saying.
The official did not say why the plane went down, but both the jihadists and a monitoring group said it had been shot with an anti-aircraft missile.
"We have confirmed reports that IS [ISIS] members took a (non-Syrian) Arab pilot prisoner after shooting his plane down with an anti-aircraft missile near Raqqa city," the Syrian Observatory for Human Rights said.
ISIS' Raqqa branch published photographs on social media purporting to show its fighters holding the captured pilot, with a caption identifying him as Jordanian.
One of the photos showed the pilot, wearing only a white shirt, being carried from a body of water by four men. Another showed him on land, surrounded by about a dozen armed men.
A third photograph was of the pilot's military identification card, showing his name as Maaz al-Kassasbeh, his birth date as May 29, 1988, and his rank of first lieutenant.
Kassasbeh's father Youssef was quoted by Jordanian news website Saraya as saying the family had been informed by the air force of his capture.
He said he was told the military was "working to save his life" and that Jordan's ruler, King Abdullah II, was following events.
"My other son met with the commander of the Jordanian air force who confirmed to him that my son Maaz was captured by IS [ISIS]," he said, calling for the jihadists to show "mercy and free my son."
He said his son had served for six years in the air force.
The Jordanian army said in a statement read on state television that "Jordan holds the group and its supporters responsible for the safety of the pilot and his life."
Jordan is among a number of countries that have joined a US-led alliance carrying out airstrikes against ISIS in Syria.
The US-led coalition of around 60 mainly Western and Arab states has been bombing Iraq and Syria since August and September respectively, but has so far failed to stop the advance of militants.
Both the Syrian army and a US-led coalition regularly bomb ISIS targets in Raqqa province.
Syrian President Bashar al-Assad, whose army has been fighting the extremist groups for over three years, told a French magazine early December that the US airstrikes have been ineffective.
"You can't end terrorism with aerial strikes," Assad said.
"Troops on the ground that know the land and can react are essential. That is why there haven't been any tangible results in the two months of strikes led by the coalition," he stated according to interview extracts on Paris Match's website in English.
On December 7, the Syrian army repelled an attack by ISIS militants on an air base in the eastern province of Deir Ezzor, one of the vital government strongholds in eastern Syria.
The oil-rich province lies between the ISIS-controlled Raqqa province and the border with Iraq, and is a key prize for the jihadist group which declared an Islamic "caliphate" straddling the two countries in June.
Damascus and other critics opposed to US involvement in the conflict with ISIS have pointed out that Washington in partnership with its Gulf allies, including Saudi Arabia, played a role in the formation and expansion of extremist groups like ISIS by arming, Financing and politically empowering armed opposition groups in Syria.
River

to

Sea
Uprooted Palestinian
The views expressed in this article are the sole responsibility of the author and do not necessarily reflect those of the Blog!